February 27, 2020
AAWA Brings Passenger Rail Advocates to Olympia
All Aboard Washington's board and members advocated for passenger rail with legislators this week, with some very successful events.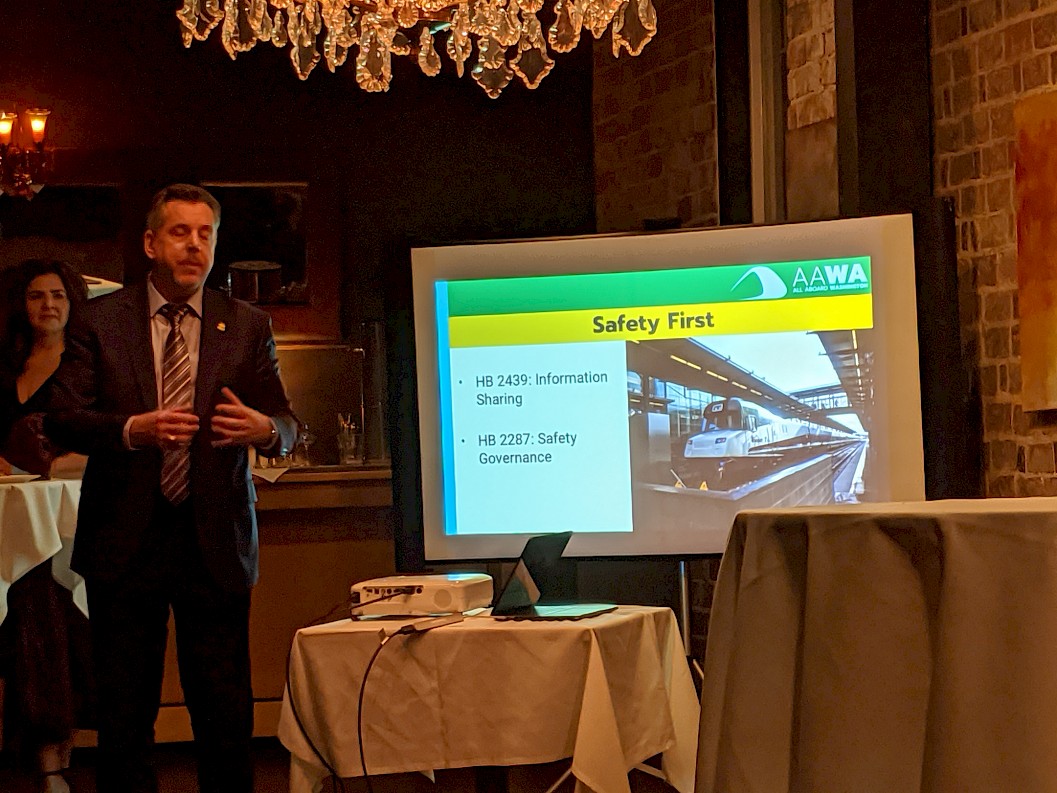 On Tuesday, February 25, we hosted the Washington Legislative Rail Caucus' "Whistle Stop" event. Caucus Co-Chair Rep. Andrew Barkis welcomed about 35 to the event, which focused on informal discussions between legislators and stakeholders from around the state. AAWA Legislative Affairs Director Luis Moscoso pressented AAWA's legislative priorities and vision.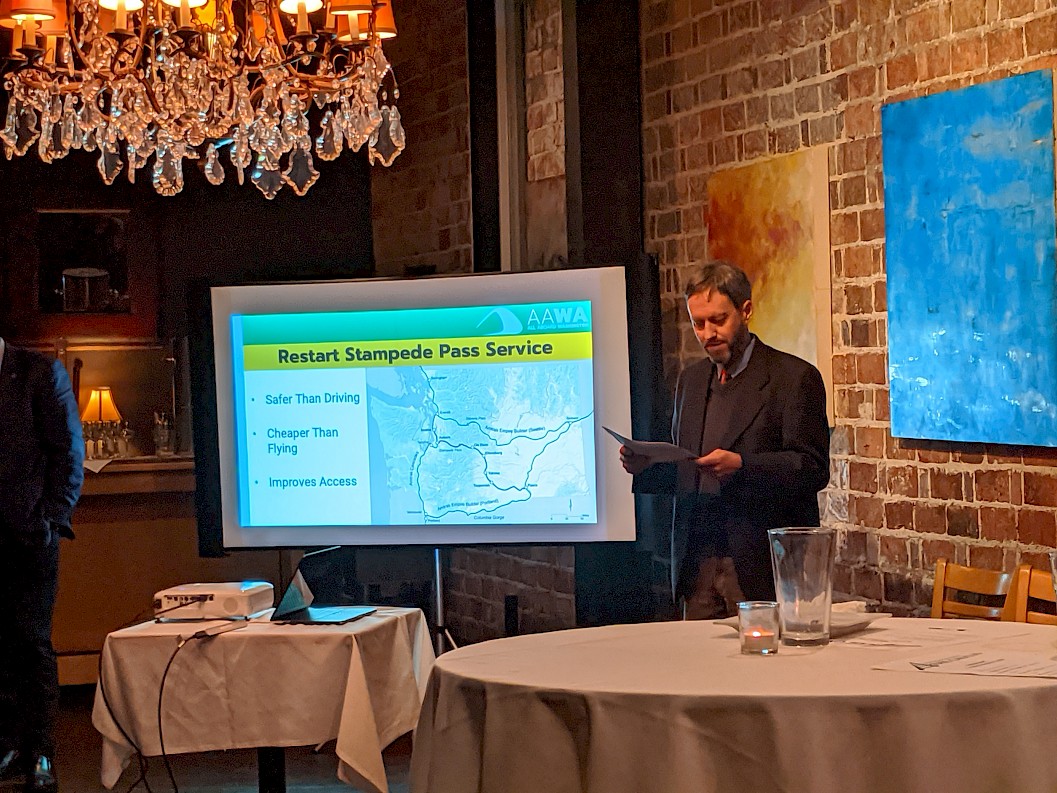 We also heard from Dave Catterson, Coordinator of the Legislature's Joint Transportation Committee, about progress toward completing the East-West Passenger Rail Feasibility Study, due for release in June.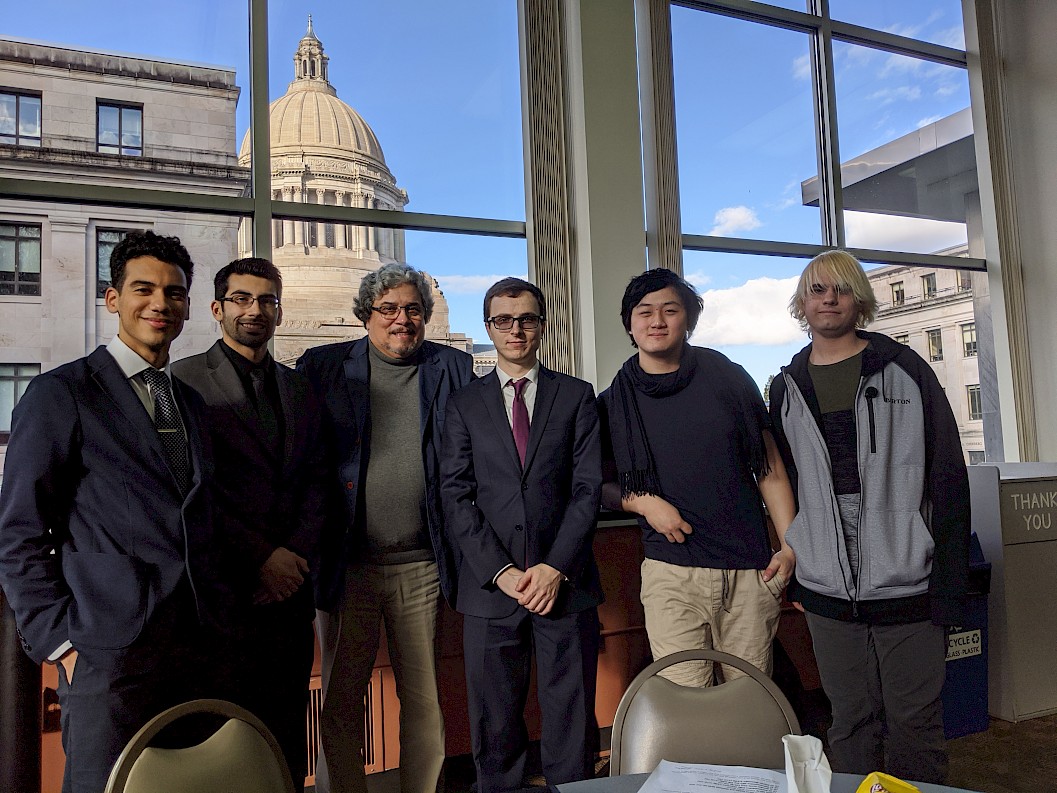 On Wednesday, February 26, eighteen AAWA members (including six students) met with 26 legislators of both parties from around the state, especially those on the Transportation Committees, and their staffs, to advocate our vision of passenger rail in Washington:
Rail Safety
Rail safety is our top priority; two of our members died in 2017 Cascades 501 derailment but would want us to push for more, better, and safer service
Several bills current bills would improve safety in Washington state
Our request: approve HB 2439 and 2287 to help make our railroads safer
All Aboard Washington urges WSDOT, Amtrak, and ODOT to replace the trainset lost in the Cascades 501 accident and to restart service on the Point Defiance Bypass at the December 2017 planned running time and frequency of service, as soon as possible. Our goal is to make passenger rail service safer, more comfortable, more reliable, higher-speed, and more frequent. AAWA supports continued investment in Cascades service because it is something that travelers across the Pacific Northwest want.
Almost two years after the Cascades 501 derailment, these service improvements have not yet happened. Our colleagues Jim Hamre and Zack Wilhoite, who we lost in the derailment, would recognize the need to make appropriate safety improvements. But they would also push for improved Amtrak Cascades service without further delay.
Our request: reopen the $181 million Point Defiance Bypass, which will reduce train delays, improve travel times, and allow for more Cascades trips
AAWA believes that the state should upgrade Amtrak Cascades service as a catalyst for, and eventual feeder to, ultra high-speed ground transportation. As a federally-designated high-speed rail corridor, the Pacific Northwest Rail Corridor should be seen as a practical alternative to driving and flying. We are supportive of high-speed rail as an asset with long-term value for this corridor. In the shorter term, our existing Cascades service should be used to maximize our region's freedom of movement. The Rail Plan should reflect a commitment to fostering a region-wide train-riding culture.
Our request: follow the long-range plan: treat Cascades as a short-term HSR stimulant and a long-term local service that can feed HSR
It's time for the Yakima Valley to receive its fair share of public transportation service. When the East-West passenger rail feasibility study is completed on June 30th, 2020, AAWA urges our leaders to examine the options carefully and choose an operating plan that gives the Yakima Valley convenient daytime service to the Tri-Cities, Spokane, Seattle, and beyond.
Our vision: restore daytime passenger train service to the Yakima Valley and provide convenient connections to local transit and eventual HSR, giving travelers to/from Central Washington access to the Tri-Cities, Spokane, Seattle, and beyond
We also invited legislators to attend our upcoming events:
Responses from legislators were uniformly positive. We look forward to continued success this year, and in 2021, even in light of the difficulties posed by Initiative 976.
AAWA also attended the Rail Caucus lunch on Wednesday, which was attended by almost 50 legislators and stakeholders. The bipartisan Caucus is planning how it can improve both freight and passenger rail service and infrastructure.