November 7, 2012
Probable Impacts on the Nov. 6 General Election on Passenger Rail Support - Federal and State
AAWA, as a 501(c)3 tax-exempt non-profit, may not and has not endorsed candidates for public office, but as individuals we should do so. The following statements, while from this avid passenger rail advocate, are designed to be more reporting, than editorializing, though my opinions surely enter in at this article's conclusion.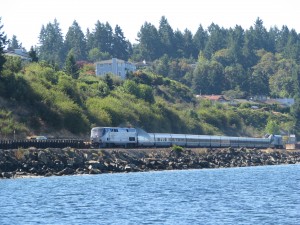 The re-election of Obama-Biden gave a much more affirmative path for federal investments in both conventional and high(er) speed passenger trains than would have been the case had the Romney-Ryan ticket won. While the Administration has seem to cool a bit since 2010, they still support a significant federal role for passenger rail in contrast the Romney-Ryan ticket, which explicitly targeted Amtrak for drastic cuts if not elimination and vigorously campaigned against the "Stimulus," the Obama program that included nearly $800 million for rail infrastructure in our state.
The US Senate will likely remain generally pro-rail. The increase in the Democratic majority will be offset by the loss, by defeat or retirement, of four pro-rail Republicans: Snowe, Lugar, Brown, and Hutchison. The US House will remain in Republican majority hands, with a vocal number of mostly-recently-elected GOP House members opposed to public investments in rail.
The Washington State Congressional delegation should remain relatively supportive of federal rail investments. Senator Murray has been a solid supporter. Re-elected Senator Cantwell has and should remain pro-rail. Our state's rapidly growing population now supports ten House seats. None of the ten elected, six Ds and four Rs, was a surprise. But only two of the twelve candidates (for what I assumed were potentially contested races) answered my pre-election requests for their views of federal funding for passenger trains. One response was polite but generally negative, the other favored "rail transit," but did not address my specific questions on Amtrak and intercity rail.
The statements I made at the October 31 WSDOT Plan Workshop and at the November 3 Annual Meeting in Centralia need more emphasis here: We as rail advocates MUST tactfully educate our elected officials concerning passenger trains! As former Congressman Al Swift (D-Bellingham) once said, "We in Congress can have expertise on but a few issues; it is up to (advocates) to inform us about most things we need to deal with."
While it appears Democrats will control most statewide offices, including the Governor, and will retain the majority in Olympia's House and Senate, some changes in the Legislature create some serious challenges for passenger rail advocates.
Democrat Senate Transportation Committee Chair Mary Margaret Haugen, a long-time staunch supporter of the state's rail programs, particularly the Amtrak Cascades, went down to defeat Tuesday. And unexpectedly, two very pro-rail Republicans, Senator Dan Swecker and Representative Mike Armstrong ,who have a history of cooperation and rapport with the Transportation Committee Chairs (Democrat Judy Clibborn, the fine House TC Chair, will return), were unseated by other Republicans, who in one case, campaigned that state transportation dollars should be only for roads, not "transit."
If I may be personal, I wish Mary Margaret, Dan, and Mike my sincere thanks for their years of fine work. They served their districts well, the state well, and their collegial, bipartisan labors on the transportations committees are examples I only wish were more evident in the US Congress!
Rail in Washington has lost three good legislative friends through the elective process. While not forgetting these friends, rail advocates must now seek out other legislators who can share our desire and most of the public's desire for a larger passenger train role in our state and nation.