August 8, 2012
Amtrak dedicates new Seattle maintenance facility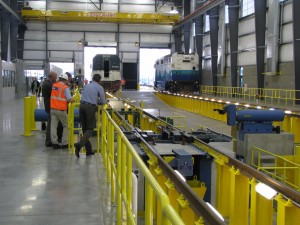 On August 6, Amtrak was joined by U.S. Senator Patty Murray (D), WSDOT and Sound Transit in dedicating its new Seattle train maintenance base. This marked the completion of the first two of the four phase project. Last winter the materials storage and office building opened. Phase two is the maintenance building for the Talgo trainsets used on the Cascades and the Sounder cars Amtrak maintains under contract with Sound Transit.
The maintenance building contains two tracks long enough to accommodate a full Talgo trainset. Below grade inspection pits run nearly the length of each track. The building also contains facilities and office space for the people that work in the facility.
The first two phases cost $37 million. The Amtrak board of directors has approved $4 million to complete the design for the other two phases. These buildings will house a locomotive servicing facility and a maintenance facility for the Superliner equipment used on the Empire Builder and Coast Starlight.
Sen. Murray, in her remarks, stated that people in our Washington understand the importance of transportation, unlike some in the other Washington. Investment in transportation, including Amtrak, is one of the most important tools we have to strengthen our economy and build long-term growth and job expansion. This facility will allow the train equipment to be maintained in peak condition, Murray said.
Paula Hammond, Secretary of Transportation, said she appreciated Sen. Murray's support for our Cascades service. She noted the 15-plus year partnership WSDOT has had with Amtrak and BNSF. Well maintained equipment will help provide more reliable and on-time service, as well as incremental expansion of service.
Pat McCarthy, Pierce County Executive and chairwoman of the Sound Transit Board, thanked Sen. Murray and noted that people want more transit. Sound Transit has invested $1.2 billion in BNSF and Tacoma Rail tracks between Everett and Lakewood, and these investments also benefit Amtrak and BNSF.
With the cutting of the ribbon, all the doors on the south end of the maintenance building opened simultaneously and guests were invited to walk through the modern and spacious facility. Amtrak had two of their locomotives, a cab car and a Sounder locomotive parked in the facility.
In day-to-day operation, the Talgo trainsets will be maintained in the facility at night and Sounder cars during their daytime layover in Seattle. For the first time, this work will be performed inside and not out in the elements.
For more pictures of the event see our All Aboard Washington Facebook page.