July 6, 2012
Market Our Passenger Trains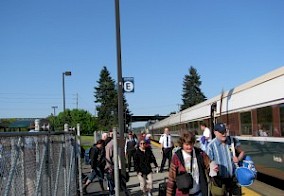 A Cascades train boards passengers at Centennial Station

Most rail advocates have significant understanding of the what, where, when, and how much of our Northwest Rail Corridor passenger trains. Some of the readers of this website have exhaustive knowledge of the details of not only our passenger trains, but freight trains and passenger trains elsewhere as well!
Even we whose detailed information is limited to our regional passenger trains have an obligation to gently and tactfully inform the many of our Pacific Northwest neighbors who may be positively disposed toward riding our trains, but bluntly speaking, have no clue!
I encounter educated, publicly-active people in Olympia who say, "I sure wish we could take a train to Seattle/Portland. Driving I-5 is no fun." Despite marketing by Amtrak and WSDOT, these people still don't seem to know about our intercity trains. What we need to do is carry Northwest Corridor train schedules, brochures describing the routes and stations served and the Talgo trains, info on the costs of tickets, and even be able to deliver a very short course in "How to Ride our Trains." Most importantly, we need to enthusiastically point out riding a train is just plain relaxing, relatively stress-free, and just plain fun, compared to most commercial flights or enduring I-5.
We don't oversell: Ours are not high-speed trains! 79 MPH is not HSR. They are sometimes delayed. While ticket prices are reasonable, our Amtrak trains are not a cheap ride, although with $4 gasoline, our trains are cheaper than a driver alone in most cases. For potential travelers with time flexibility, stress Tues-Wed-Thurs travel and ordering tickets well ahead for the best prices.
In short, be an ambassador/salesman for our trains!