April 20, 2019
Small But Mighty: Improving Seattle-Vancouver Cascades Service
by Anton Babadjanov
The statements and opinions expressed in this article are those of Anton and not necessarily those of AAWA.
To be published in the Spring 2019 Washington Rail News
When the $800m worth of AARA-funded projects were announced for Washington state, nobody expected actual high-speed rail, but we still hoped for moderate improvements in running time and on-time performance. While the Point Defiance Bypass will eventually deliver such improvements for the Seattle to Portland runs, the route to Vancouver remains a relative disappointment.
However, on the subject of running time, it is possible to make some significant improvements with little capital expense.
South of the Border
Once Positive Train Control (PTC) is operational, much of the class 4 track today (speed limit 79 mph) could be upgraded to class 5 (speed limit 90 mph). This can lead to time savings of up to 5 minutes between Marysville and the Canadian border.
The amount of capital work required depends on the section of track, with some sections potentially requiring nothing more than PTC and others requiring high-cost work like rebuilding track, new swing-nose switches, crossing gates, etc. 90 mph operation would also require schedule adjustments to be approved by the host railroad (BNSF).
WSDOT recently received federal grant funds for a Service Development Plan which will cover the topics above. Completing the plan would take 14 - 18 months. After that funding has to be secured, multiple stages of design completed (including environmental review) and eventually construction can commence. How long until we actually see 90 mph operation is unclear, but, judging by the fact that ARRA projects were completed in about 7 years, we are likely looking at a minimum timeframe of 2-3 years, if not longer.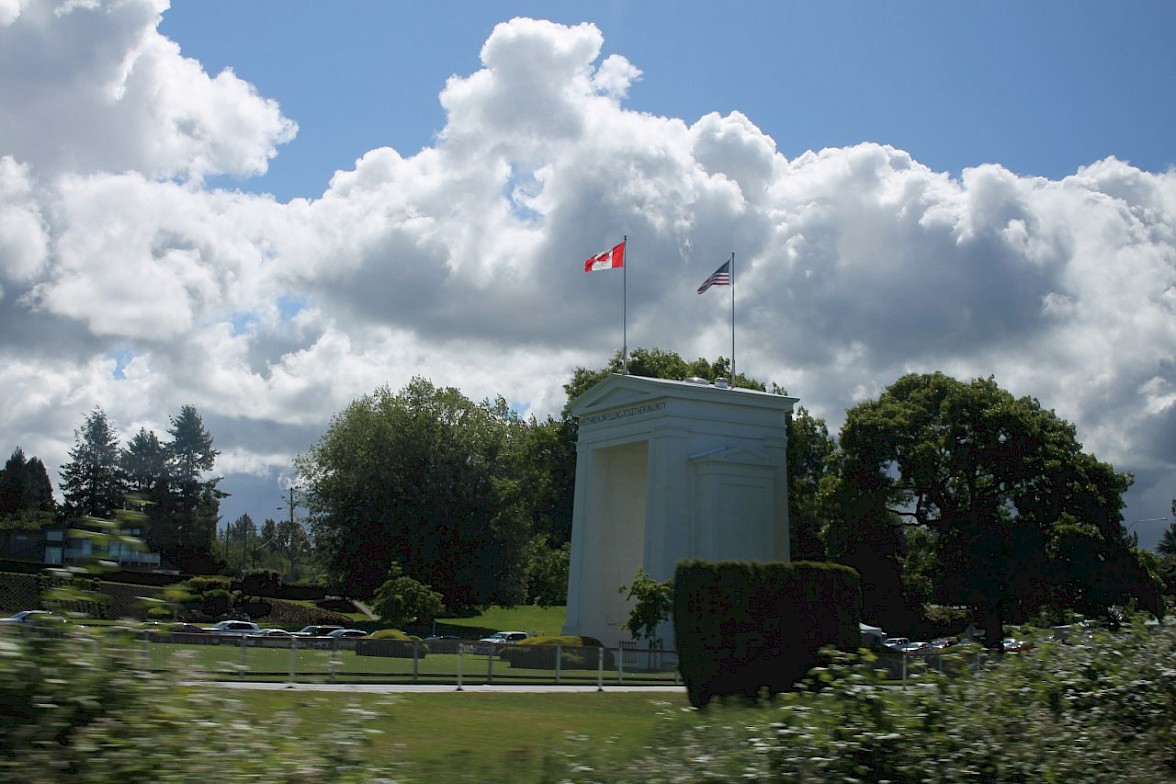 A view of Peace Arch Park from a Cascades train. Photo by Patrick Carnahan.
North of the Border
A major time sink in BC is the approach to Pacific Central Station (PCS). The yard, which together with the station is owned by VIA Rail, has hand-operated switches and 15 mph speed limits. Currently it is typical to run trains at 10 mph as the engineer has to stop at least twice, to allow for them (or the conductor) to get off the train and adjust a switch before continuing. The result is that the Cascades typically takes about 10 minutes to cover the distance between PCS and Commercial Drive, while the local rapid transit system, SkyTrain, covers the same distance in 2 minutes.
Installing electronic signals and switches and improving track for higher speeds has more benefits than just improving Cascades service:
Electronic signals would improve safety - and can prevent derailments in the yard.
Service would be improved on The Canadian and The Rocky Mountaineer, trains that run primarily or entirely within Canada.
Since the assets are owned by VIA Rail, which is a crown corporation, it makes sense for the Canadian government to pay for them, as opposed to them improving the assets of BNSF, a private corporation. BNSF owns the track north of the border as well, up until the VIA yard (with a section leased out to CN, though still owned by BNSF).
Together these can lead to time savings of 5-8 minutes
All in all, we have 10-13 minutes of time savings that are achievable with minimal capital expenditure. This would make Cascades rail service relatively more attractive than most bus service which has a scheduled running time of 4 hours, the same as the train today.
These projects would also provide a nice stepping stone for BC, and a great reason for us to establish collaboration with the BC government on improving passenger rail service.