March 11, 2016
All Aboard Washington honors Sound Transit's Joni Earl
All Aboard Washington presented its Tom Martin Award to Joni Earl, Sound Transit's retiring CEO, at the March 5 Northwest Rail Advocates conference in Tukwila. The award was presented by Harvey Bowen, a Vice President of All Aboard Washington and a NARP Council of Representatives member for Washington State. Here is Harvey's presentation:
"The Tom Martin award is named for the late Tom Martin, a civil engineer and founding member of All Aboard Washington's predecessor organization, The Washington Association of Railroad Passengers. He was an active member and strong supporter of passenger rail service, and many of our earliest meetings were at his home. When he passed away he bequeathed part of his estate to our organization. All Aboard Washington continues to honor Tom's many years of service and his generous contribution through his name on the Tom Martin Award, which recognizes contributions to Passenger Rail services in Washington State.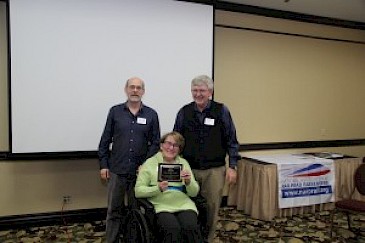 (Pictured with Joni Earl are Harvey Bowen, left, AAWA VP, and her husband Charlie.)
"Sound Transit was voted into existence in 1996, and within 4 years was at risk of losing public and government support. Joni Earl joined Sound Transit just as overly optimistic plans were being called in to question by the federal government and the public. Joni took the reins, managing the creation of realistic plans, and then delivered on those plans, turning Sound Transit around so well that at-risk Federal funding was re-secured and a second round of investment was approved by the voters in 2008. This turnaround challenge was not trivial. Without Joni's leadership Sound Transit could have been at risk of being dissolved, as a Seattle voter-approved transit agency was during this same period.
"Joni started out with Sound Transit as Chief Operating Officer, a position she held for only a few months before the then-CEO resigned. Joni was called upon to take interim leadership and then selected as the new Chief Executive Officer. Over a 15 year period, she was in a leadership role for the opening of almost all of Sound Transit's rail services and the installation and startup of around 16 miles of new light rail and streetcar services, a number that is growing to around 21 miles this year.
"For her leadership and success at Sound Transit, bringing rail and other transportation services to King, Pierce, and Snohomish Counties, All Aboard Washington is proud to present Joni Earl with the Tom Martin Award."
The award reads:
ALL ABOARD WASHINGTON
Presents to
JONI EARL
Our Tom Martin AWARD
For Many Years OF Exceptional Service
as CEO of SOUND TRANSIT
March 5, 2016
In her remarks, Earl told us she was honored to receive the Tom Martin Award. She thanked All Aboard Washington for its strong support for Sound Transit as she lead the agency back from the brink of elimination. She gave credit to her staff for their great work over the years to bring Sound Transit's projects to fruition. Joni noted that she was a regular Tacoma to Seattle Sounder rider while ST's CEO.
Pictured with Joni Earl are Harvey Bowen, AAWA VP, and her husband Charlie.