February 20, 2014
Tacoma Freighthouse Square Station Concepts
On Feb 19th, WSDOT held an open house with 14 different conceptual designs for a proposed Amtrak station at Freight house Square as part of the Pt. Defiance Bypass project (replacing the existing Amtrak station) . While somewhat detailed designs they had not made it past the concept stage yet and into any kind of engineering. Some interesting tidbits included that if the east end were chosen, the floor would have to be lowered by several feet to meet up with track level (And judging by some of the proposed designs, it may be easier to demolish and rebuild than try and make that kind of a change to the structure.). The next steps were to narrow these 14 designs down, and do some preliminary engineering and structural assessment of the building to actually see how it would function.
Some observations, even though no dimensions were posted, the waiting rooms seemed to be small. For a building with a life of 20-50 years (20 years min. per the grant requirements) it would seem important to be building for additional train capacity beyond the few additional trips already programmed. Also, The non east-end options all had no reference to any curb drop-off and bus loading areas, while the east end options had designs under the building at street level. There was also no mention of long-term parking, although in a previous meeting Amtrak and WSDOT were considering Tacoma an "urban" station which does not "need" long term parking.
Pictures of the concepts are below the jump.

The color coding on the options:
Orange - Funded by the WSDOT project
Teal/Green: needs 3rd party Funding that has not yet been identified.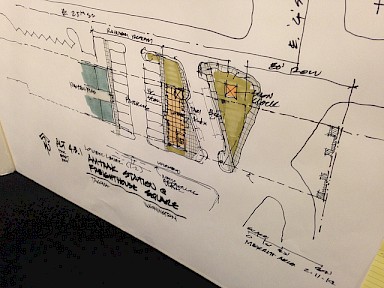 Proposed bus and Taxi Facilities underneath the East End options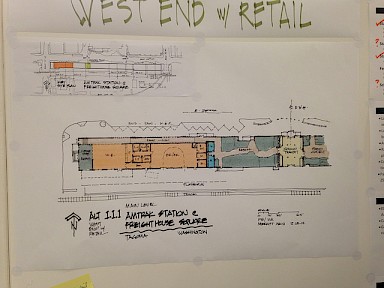 West End option with Retail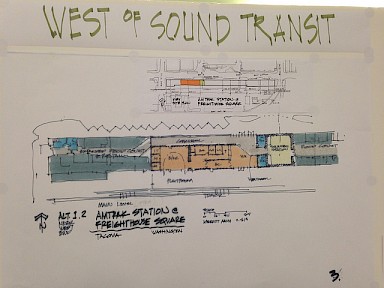 West of Sound Transit Lobby Option
I have posted Pictures of more of the options on Flickr here: http://www.flickr.com/photos/busdudedotcom/sets/72157641290581443/with/12668021475/
Tacoma News Tribune Article
http://www.thenewstribune.com/2014/02/20/3057876/new-tacoma-amtrak-station-concepts.html
WSDOT Pt. Defiance Bypass Project Page:
http://www.wsdot.wa.gov/projects/rail/pnwrc_ptdefiance/