June 13, 2012
All Aboard Washington rides the Chehalis-Centralia Railroad Steam Train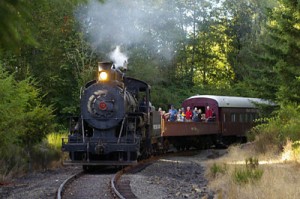 Sat, July 21, 12pm – 4pm
1101 Sylvenus Street, Chehalis, WA 98532 (map)
From Seattle: Cascades Train 513 to Centralia (CTL); Cascades Train 508 return. From Portland: Cascades Train 500 or Cascades Train 506 to Centralia (CTL); Cascades Train 509 return.
Join us on the third Saturday of July (due to the Rails 'n Ales event at the South Cle Elum Depot Museum on the second Saturday, which some of us will be attending) to ride the Chehalis Centralia Railroad behind their famed 1916-vintage steam engine #15. Upon arriving by train at Centralia, there may be brief time for lunch or shopping downtown before we board Twin Transit Route 42, the 'Museum Express' at 2:00 PM (fare $1.00 each way) to the Steam Train and Veterans Museum, and then board the Steam Train's 3:00 PM run.
There will be a short amount of time to look at the Veterans' Museum next door before or after the steam train, before reboarding the Route 42 bus at 5:25 PM, returning to the Centralia Amtrak Station at 6:00 PM, where we can enjoy dinner at McMenamin's Olympic Club before boarding Train 508 back towards Seattle, or Train 509 towards Portland. The steam train will have a snack bar, but we recommend you have eat on the train on the way to Centralia, or you can grab a bite while in downtown Centralia.
If you must drive: Exit 77 (Hwy 6 - Main St.) from Interstate 5 and turn west. Turn left on Riverside Dr. Continue about ½ mile to Sylvenus Street and turn left.
Train fares: Adult, $16; Senior, $14; Children, $13.