May 18, 2017
All Aboard June event is for fun
Saturday, June 10 10am - 2pm. Skykomish, WA
GN&C Railway 101 N 5th St
This will be a fun event for everyone instead of a meeting. All Aboard Washington will be traveling to the town of Skykomish on US 2 east of Everett, and 45 minutes from Monroe.
We will be riding the Great Northern Cascade Railway, a 1/8 scale ride-on train. GN&C has over 2700 feet of track, with more on the way. The railroad sits directly adjacent to the BNSF Stevens Pass mainline.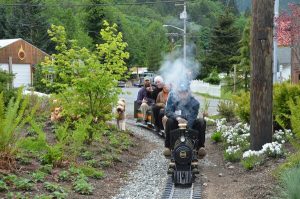 For more information Great Northern and Cascade Railway
Meet in Skykomish at 10 AM for rides and exploring the town, with lunch on your own. After lunch those who wish to hike the Iron Goat Trail to near the site of the Wellington disaster can do so and others can slip away to do what they wish.
Please note, you must have a Northwest Forest Pass if you use either the Martin Creek or Wellington trailheads on the "Iron Goat" trail. If you use the Scenic Trailhead, no pass is necessary.
For more information Iron Goat Trail website