February 16, 2022
AAWA Discusses Rail Funding on KING5 TV
All Aboard Washington's Luis Moscoso discussed the need for increased rail funding on KING5 news. Also rebroadcast on KREM TV.
'Luis Moscoso, government affairs director for All Aboard Washington, a nonprofit train advocacy group, said his organization supports the idea of high-speed rail. However, the state should also improve and expand existing rail systems by applying for additional federal grant funding, he said.
'"We can take those rail plans off the shelf and start looking at what the Amtrak Cascades can add in additional service on the I-5 corridor now, as well as expanding service to Eastern Washington, which is left out at the moment," Moscoso said.'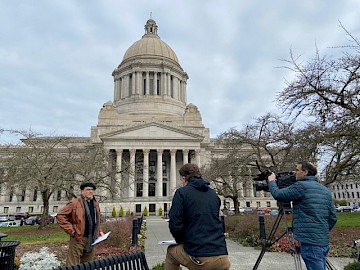 Beyond the limited time available for the television interview, Moscoso, together with Co-Executive Director Patrick Carnahan and Executive Director Emeritus Lloyd Flem, made the following points.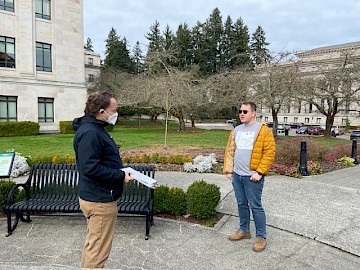 President Biden's Bipartisan Infrastructure Law provides $66 billion for passenger and freight rail over the next five years including various grant opportunities. Our state should take advantage of these opportunities to improve intercity passenger rail service statewide…..not just service that parallels the I-5 corridor. The only provision for passenger rail in the proposed Move Ahead Washington state transportation budget is $150 million for a long term planning project for high speed rail along I-5. There is no provision to expand conventional rail infrastructure or service.
The $150 million for high speed rail with nothing of note for the Cascades is like planning a fabulous new mansion but forgetting to pour the foundation. No high speed rail system in the world (including France, Germany, Japan, and China) was built without a supporting, robust, conventional intercity service such as the Amtrak Cascades here in Washington state.
There are currently three Cascades trains daily between Seattle and Portland.  The Los Angeles to San Diego corridor has 12 trains daily.  That density of service attracts millions of passengers a year because the frequency accommodates the needs of travelers. 
By not explicitly funding better Amtrak Cascades service, we are undermining high speed rail in our future–and potentially wasting that $150 Million.
Passenger rail generates significant economic, environmental and equity benefits to communities of all sizes.